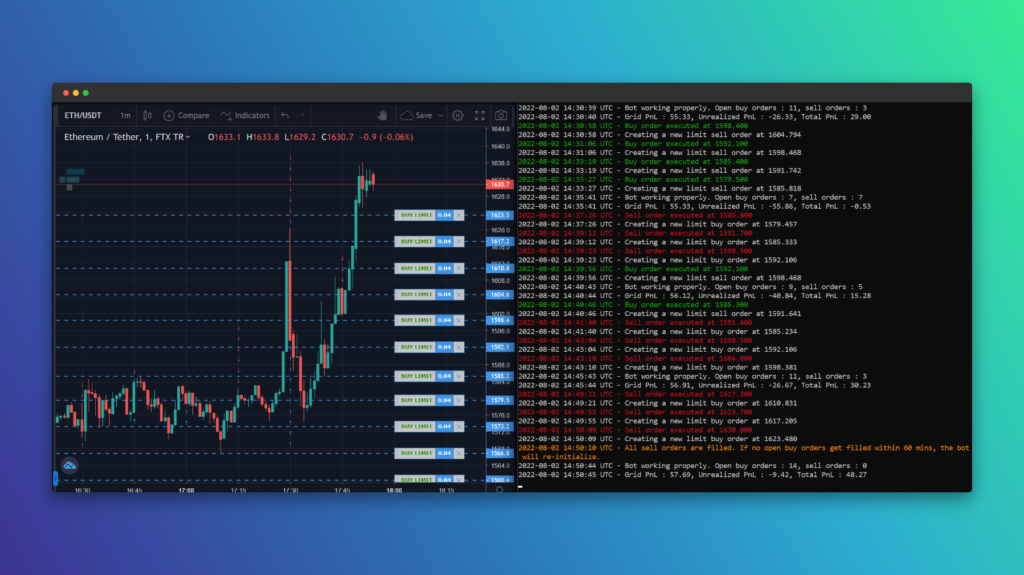 This is what the result of implementing our skills, knowledge and experience in Python, software automation and cloud services into crypto trading world looks like.
An automated system that can connect to 2 major exchanges, fetch and analyze the data, send orders, open and close trades within a fraction of a second. A system that can handle any possible errors and connectivity issues, besides following a robust strategy that continuously buys low and sells high.
A launch and forget algorithmic trading bot where you can set the parameters depending on your own risk tolerance: set the number of buy/sell levels, wait times, order and spread sizes.
A bot that can run in multiple instances that gives the algorithmic traders the ability to trade multiple crypto asset pairs simultaneously. You can trade ETH-USDT and BTC-USDT simultaneously using FinBrain Algorithmic Trading Bot.
While the hedge funds are still trying to penetrate the crypto markets, you can use their market making strategies to generate profits from the spread. In a market where the hedge funds are still trying to figure out the dynamics, you can act quick and enjoy sweet profits with continuously buying low and selling high on autopilot.
Taking advantage of the price volatility of the crypto assets in a 24/7 open market and making more profits at each order fill. When the price hits grid orders over and over again, the bot harvests profits from the spread between each order. It also submits the opposing order once an order gets filled, in order to maintain the grid structure.
If you haven't automated your trades yet, this is your opportunity to trade on autopilot 24/7 using a strategy that takes advantage of the volatility in the crypto markets.
Start your algorithmic trading journey and bring your trading to the next level with FinBrain by visiting www.startalgotrading.com
FinBrain Technologies
99 Wall St. #2023 NY10005 New York